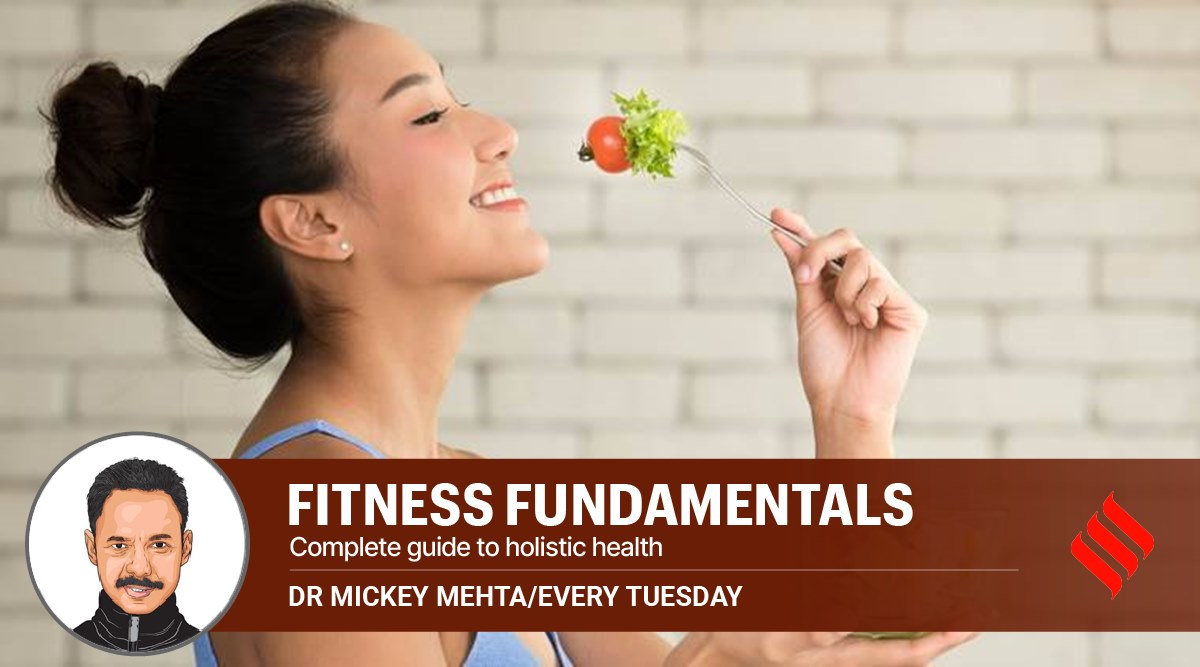 Following the circadian rhythm and eating around the same time each day is very important. Following the sleep-wake cycle eases digestion and betters absorption, says holistic health expert Dr Mickey Mehta
Updated in Indian Express
https://indianexpress.com/article/health-wellness/eating-right-recipe-warm-water-salad-bowl-ragi-rotis-ghee-spice-tea-8387525/
We often hear about eating right but then get lost in the maze of finding out what works for us and keeps our body and mind in balance. There's enough research these days to emphasise how a diet rich in fruits, vegetables, whole grains, millets, legumes and herbs and condiments is essential to keep our sickness burden at bay, be it cardiovascular diseases or diabetes.
A breakfast with warm fluids and fruits, a substantial lunch and an early and light dinner are recommended as part of a naturalistic diet. This is in sync with the flow of the digestive fire, which builds up during the morning, peaks around noon and then slows down again in the evening. So, try and have only two solid meals — lunch around 12.30 pm and early dinner around 6.30 pm.
(1) Start the day with a lot of warm water. Include ginger tea, herbal and green tea
(2) Breakfast can be a lot of fruits like pomegranate, honey dew melon, muskmelon, apple and pear.
(3) Include a bowl of salad 30 minutes before lunch.
(4) Then for lunch include dal (moong, masoor, kulith). Include millet-based rotis like bajra, jowar and ragi. Have a good serving of vegetables (bottle gourd, pumpkin, greens like spinach, methi, amaranth, green beans, cauliflower, radish or anything seasonal and regional). If you like rice, go for the unpolished variety. Even better are rice alternatives like kodo millet or foxtail millet. Include dahi and chaas with jeera, hing, mint and salt.
(5) For evenings, have green tea or ginger-based tea with a bowl of sprouts, salad or makhana or dry fruit (soaked nuts – almonds/walnuts/black raisins) and seeds (some sunflower, sesame, pumpkin seeds).
(6) Dinner should be early and light. Include a vegetable and lentil-based soup like pumpkin, ash gourd, bottle gourd with moong or masoor and/or moong/sweet potato/yam/sprouts based chilla, tikkis, moong-based khichdi.
(7) Just 30 minutes before bedtime, have a cup of warm milk spiced with nutmeg/ cardamom/ginger based on your body type.
(8) Hydrate well throughout the day.
(9) Fresh foods are easier to digest. Choose only regional and seasonal foods.
(10) Use one teaspoon of organic ghee three times a day.
(11) Avoid processed, preserved, packaged and flavoured foods, refined flour, sugar, salt, food high in saturated fats.
(12) Following the circadian rhythm and eating around the same time each day is very important. Following the sleep-wake cycle eases digestion and betters absorption.
Food is essential for the maintenance of health, optimum digestion, absorption and assimilation. But it is much more than mere fuel for the body. It extends its effect on other entities of our existence such as energy, mind, intellect, emotions and soul. Remember, food can cleanse and fortify you.
Cleanliness and hygiene of food is very important as much as eating with reverence and intimacy. It is important to be instinctive and eat only when hungry. What we eat, consumes us and makes us what we are. So, we must eat sensibly, intelligently and ethically. If these three pillars of eating are understood well, then we ought to be in good health.
Updated in Indian Express
https://indianexpress.com/article/health-wellness/eating-right-recipe-warm-water-salad-bowl-ragi-rotis-ghee-spice-tea-8387525/